We met Tommaso Garner on a Saturday afternoon in October, in his home studio in Milan. Hundreds of books line the shelves and Tommaso did not hesitate to show us his work and personal projects from the last ten years, extracting each one directly from the relevant shelf.
We immediately realise that Instagram is only a small part of his visual research, it is an output that has to do with everyday life, a reference point on the map that hides a long journey of elaborations, re-elaborations, thoughts and notes written using the language of appropriation. The bookcase – a white, minimalist metal shelf – contains an archive of timeless images and imagery ready to be shattered by his ultra-contemporary vision.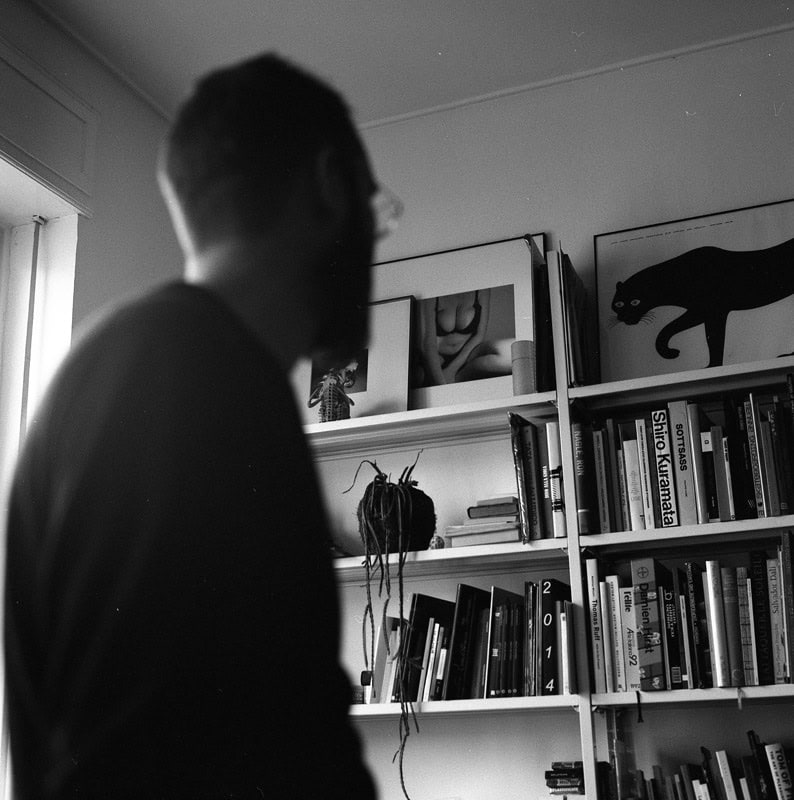 These ten images have been carefully selected from your (huge) archive,
but of course they were not chosen by chance, were they? What were the criteria for your selection?
They are fundamental images for me, which represent some of the worlds of reference to which I am more attached and are all images taken from the internet over the years and which I have categorised.
Having always worked with images, I always did a lot of research, both before and after the internet, and I always felt the need to own the images and be able to reuse them even long afterwards. The archive is large and constantly evolving, and I use it for everything related to my work: from the creation of moodboards for photo shoots (portraits, fashion, reportage) to commissioning, to personal work, which might be for Instagram or my other projects.
What is not immediately clear when looking at your Instagram profile is the source of the images. They share a certain "erotic" approach, which is what initially caught our eye for this issue. But there is certainly more behind it. Can you tell us more?
As I said, all the images are taken from the internet: I'm not interested in merely reposting them, but somehow reinterpreting, modifying and filtering them, giving them all a common denominator. I have always been attracted to reworking in my work, even before Instagram: the extreme reworking process can transform my archive images into something completely abstract. However, I must say that Instagram for me is not a project in itself, nor is it a project with a specifically erotic theme, over time it has simply naturally evolved in this direction.
What do you think of Instagram censorship? Have you ever had problems or do you live in the fear of being "banned" sooner or later?
I have had some images removed, but I don't think that Instagram censorship is a problem. It is a platform with its own rules and if you use it then you must respect those rules, it is part of the game.
This is not the first time that your images have come out of the digital context, in this case it is a magazine, but recently they have also ended up on skateboard decks ('Pussy Bong' project, Ed.). Do you have other ideas that you would like to develop in the future and where would you like them to be seen?
There have been so many projects where I have used my archive in very different ways. For example, for about a year, my friend Giorgio Di Salvo and I had a project called demundus.com, which consisted of a conversation between groups of images, a kind of blow-up between me and him. More recently, I produced a small publication only featuring images of girls smoking bongs semi-nude, three of which were used for the skateboards you were talking about. They will take on other forms in the future.
Anyone who didn't know you would expect to find a portfolio of your works and projects related to art direction and design on your personal Instagram profile "@tommasogarner". How do you combine your position as art director and designer with this obsessive search for bodies and a certain erotic imagery?
I consciously chose not to use Instagram as a portfolio of my work as an art director, perhaps because I had no idea that it would become so important for my work when I first downloaded it, but also because I feel more comfortable staying behind the scenes than self-promoting a certain type of profession. This is why I have always considered it a more private space. Furthermore, it's not that I am just obsessed with naked bodies: they are an important part of my work, but my research goes a long way and is necessary for the individual projects where I am in charge of the visual aesthetics, such as Studio or Alla Carta.
And what are your other obsessions?
I don't think I'm a particularly obsessive person. I like to eat well or very badly, I enjoy a smattering of many different subjects, from art to architecture, design, music, a bit of everything. I get bored quickly and don't believe in notionism or knowing "everything" about a specific topic. I think it's important to know the world around me in order to create links to things, and to interpret them in a personal way.