With our trusty van, we wander in search of new experiences and new people to know. We head towards the area of San Vito Chietino, a place that has often been a sweet getaway for writers and intellectuals of the past, where they could devote themselves calmly to literature and study.
At first, we find ourselves by the sea and then, all of a sudden, rolling hills of olive trees hug us. The vegetation is luxuriant, patches of draught soil here and there. The air is filled with mixed scents, sour and sweet from salt and bark. An unexpected gust of wind carries that unmistakable smell of freshly cut grass and flowers; childhood memories come back to our minds. We hear the buzzing engines of some cars crossing the narrow, uneven streets. Then, it is all quiet.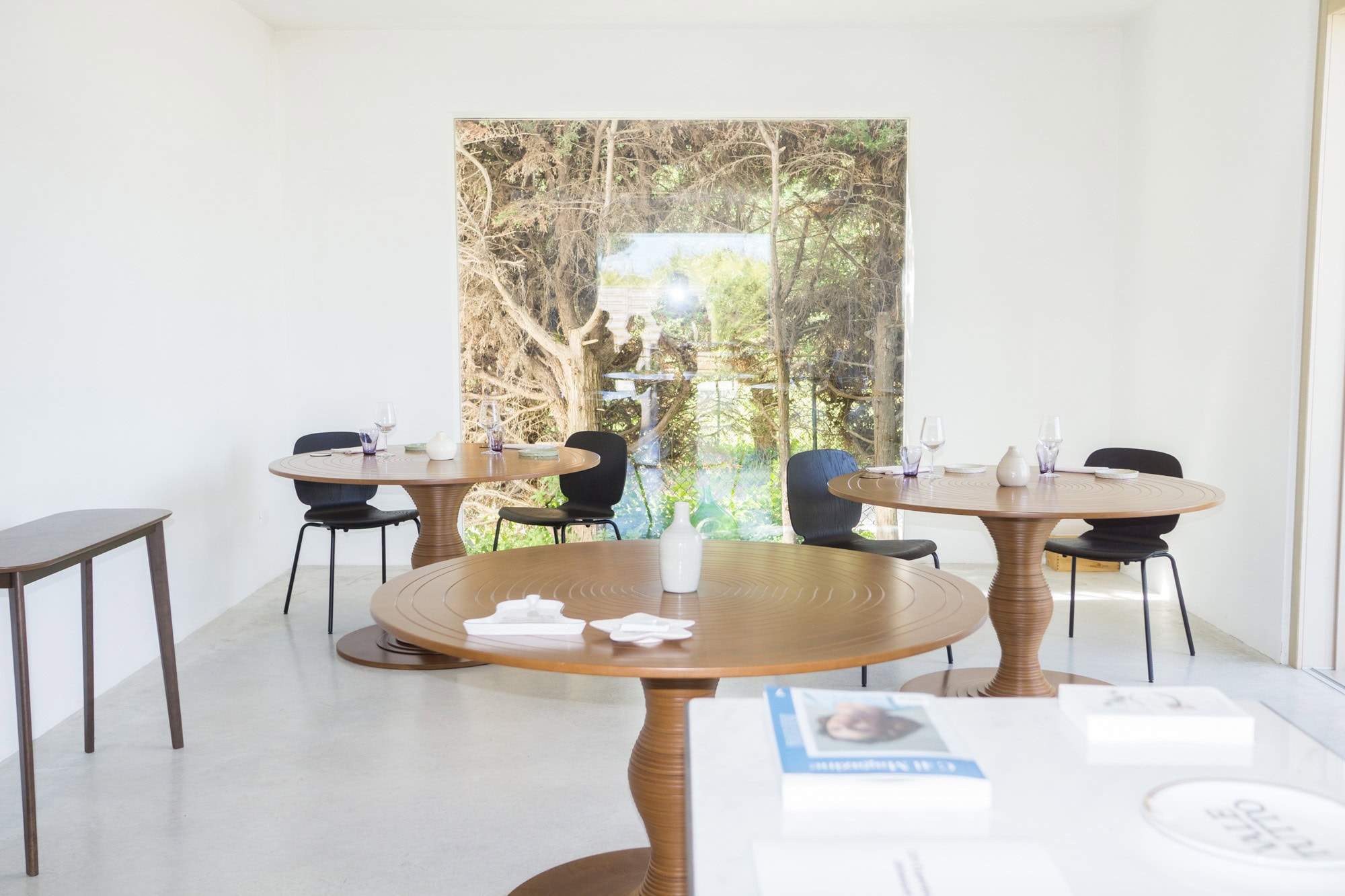 Imagine: the wind blows in your hair.
The surrounding hills are covered with olive groves, as far as your eye can see.
The fresh air you are breathing smells of silence and peace. In the distance, something appears on the horizon but you cannot understand what it is yet. Once you move closer, among the olive trees, a white cube appears, as if by magic. A white cube with large windows and a small metallic door.
You check the GPS to make sure it is the right place, but there is no signal. You start to feel a bit lost, but everything around you feels safe. From the outside, it may seem like a mirage or something that has fallen from the sky by accident. The atmosphere is both magical and strange. You look around and see nothing but that bizarre and extremely fascinating building.
This is Bottega Culinaria, an enchanting restaurant in the Abruzzo hills.
A small, white cube, without signs or directions. An idyllic bubble absorbed in peace and silence. A world in which it is possible to taste a lunch outside the box. The table is carefully set. The glasses are crystal clear, almost invisible, as if they were a suggestive, optical illusion. The wooden, round tables are decorated with inlays. They look like tree trunks, that part of the tree where you see the circles of life. The room is brightened up by white walls, and, on the right side, climbing plants grows.
On the left side, large windows overview the panorama, connecting the inside to the outside. The marvellous view of this unique place is topped by the enchanting scents that come from the kitchen at the back of the restaurant.
It is Mancini's stage, a large kitchen, simple and silvery.
Like a dancer performing in a theatre, Cinzia dances in the kitchen. She juggles with the stove with a grace never seen before, handling special tools that belong to Abruzzo's culinary tradition. In addition to food, we find spices, plants and flowers used to top her exquisite dishes.
Chef Cinzia Mancini accompanies the customers through a sensory journey that brings out old memories and new emotions. Her initial shyness gives an extra touch to her wonderful persona. Mancini is able to create great things that come directly from her heart and skills. Her dishes taste of unique flavours, seasoned with an unexpected touch of determination. Her cuisine respects the local territory. The use of raw materials allows her dishes to tell the story of the land. Her ability to make each ingredient stands out by itself, makes her dishes truly unforgettable.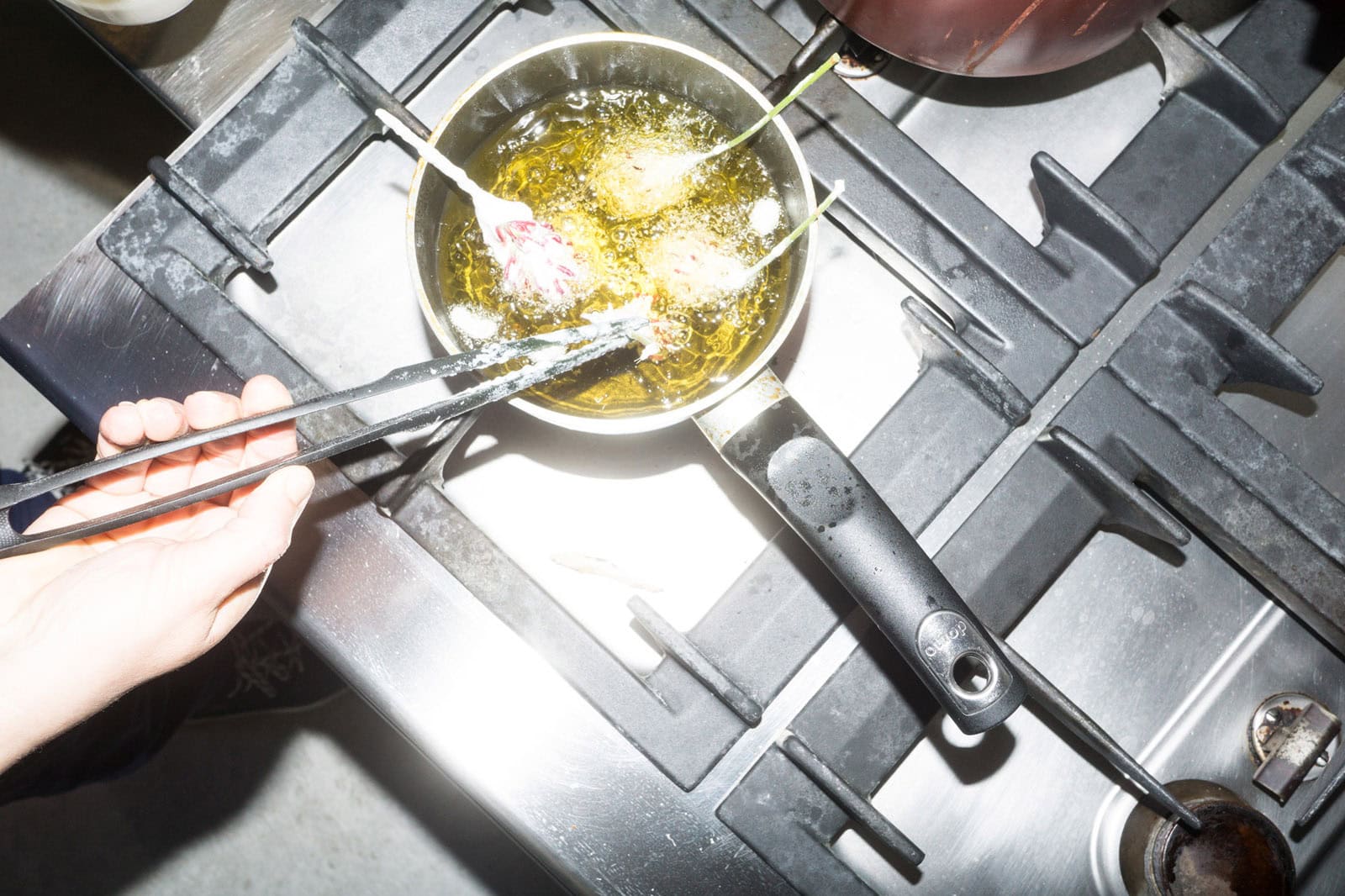 Every bite is a new journey to something unexpected. With just a few simple elements, she manages to create incredible dishes. Beans, sole fish, ventricina (a typical salami of the area)… All poor, local products that take on completely different forms and taste through her inventiveness and passion. The protagonists of Mancini's kitchen are the natural goods of the earth and the sea.
The care and respect she has for them, will certainly help her win the award of a Michelin star.
Cinzia Mancini's journey starts from traditional cuisine and turns towards new dimensions. Creativity runs free without brakes.
Quality and passion are the key ingredients and the focal point of her magnificent work.
Leaving Bottega Culinaria, you will feel filled with new sensations. Your spirit will be enriched, thanks to the teachings that the chef manages to give through her food. Cinzia Mancini is a woman of great tenacity. She has been able to create a small corner of peace and innovation in the suburbs of Chieti.