Born in Milan in 1982. Always fascinated by art and photography spend his youth traveling around the world. Graduated in Architecture at the Polytechnic of Milan with specialization in Urban Design and Landscape.Works for several years in various architectural firms in Milan; then decided to focus his attention on photo- graphy, especially on the relationship between architecture and landscape.
In 2012 is called to attend the exhibition "Architecture of the World" at the Milan Triennale with a shot taken from the project Gas Stations.
In 2013 enters the Top 50 of the Sony World Photography Awards in the category "Low Light" and exhibited at the end of collective competition in London.
During september 2013 involved in the project "Confotografia – L'Aquila 2013", where he worked for six days along with 50 other photographers, citizens and associations, testing a method of photographic research based on the exchange of knowledge between them.
In 2014 won the award for "Best Photography" in the international art context Who Art You? 3. Late that year is among the artists mentioned by the jury of the Combat Prize 2014.
Worked as lecturer in archviz courses teaching photographic technique, criticism and image composition.
In 2015 holds courses of photography at NOlab Academy in Milan.
Since 2013 join the list of "experts in photography with expertise in architecture documentation for renown" of the Province of Milan.
Starting 2014 collaborates as photographer with the media agency Twig.
Since 2015 is a Google trusted photographer and contributor for The Fork by Tripadvisor and for several lu- xury real estate agency such as Sotheby's Realty. Is a member of the Order of Architects of Milan. Currently works on commissions and on personal research projects.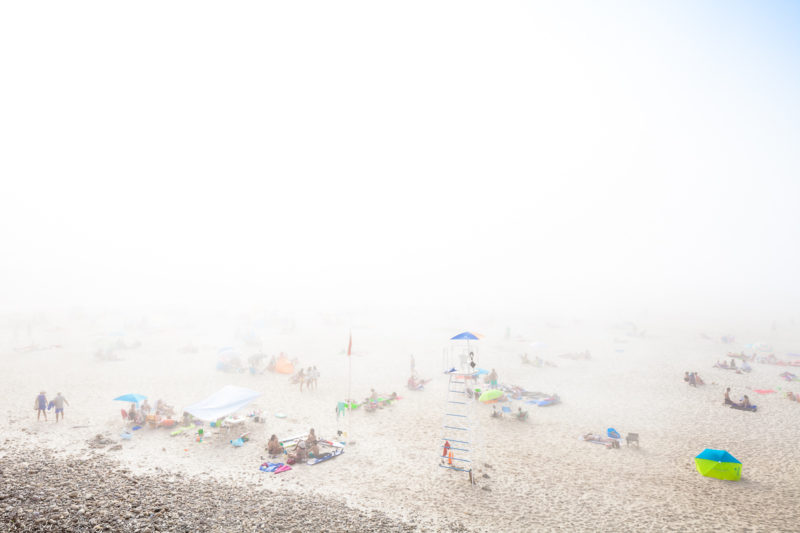 About 'At the Beach':
A Sunday summer day, northern Spain. This atmospheric phenomenon is called – advection fog and is formed with the slow flow of warm moist air over a colder sea and can be pushed towards the coasts by winds breeze.
Despite the condition persists from several days people do not renounce to spend the day off at sea although, one step away from them, this is mostly hidden to the eye.
It seemed to live in a post-nuclear future came from the mind of some writers of futuristic movie. I've tried to fantasize about what it would be if this became reality like, for example, as a consequence of earth's pollution. I've tried to imagine how it would be if hearing pre- vail the sight.
I looked and thought, and in the end, i've imagined how would have been changed the photographs of Massimo Vitali.