Born in Rome, Valentina Cameranesi Sgroi currently lives in Milan where she works as art director and set designer with Enrico Pompili. This website includes a selection of her ongoing personal research for objects, spaces and design commissions.
Tell us about yourself. Who is Valentina?
I am an art director and set designer, I am from Rome but I mostly work in Milan.
For commercial jobs, I work with my associate Enrico Pompili, for my personal research I do projects which combine the creation of objects and then collaboration with different photographers that I admire to portray those objects.
What's the story behind the "Clelia" vase?
Clelia is a vase designed for Bloc Studios in 2017-2018 that was presented at the Salone del Mobile 2018. It is part of the Avalon collection along with two other vases.
The main idea was to explore the expressive possibilities of different marbles, using manual processing techniques to obtain soft and organic shapes. In particular, when drawing Clelia, I was very fascinated by the forms created by Jean (Hans) Arp and the shapes of fish and cetaceans.
There is a clear resemblance to the female body in the final result, which is accentuated by the marble used which is a pink that is very close to the colour of flesh with almost no veins. This resemblance did not come out in the initial design but in the execution of the definitive sculpture as I smoothed and softened to indulge the sculptural potential of the marble itself.
Your body of work seems to take great inspiration from primitive sculptures. What fascinates you the most about primitive art?
Actually, any link with primitive art is unintentional. It might just be a result of my search for forms that contain something ancestral, yet at the same time contemporary, disconnected from passing trends.
It also has a lot to do with the dexterity inherent in my work, I draw as much as possible by hand in 1:1 scale and then turn the drawings into technical drawings only when I have to. What interests me is the transmission of a tactile quality to the objects, which depends on the material and the sensitivity of the crafting, which certainly plays a non-secondary component in the final result.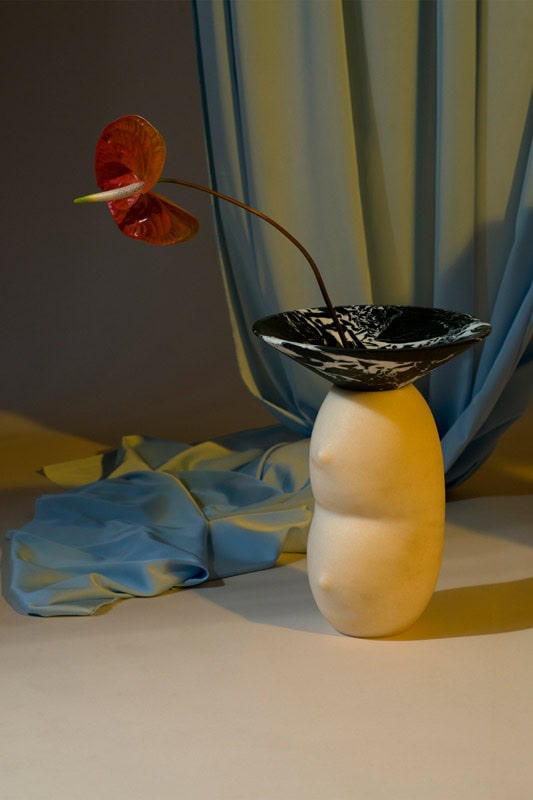 The majority of your designs recall something organic. Bodies, plants, textiles. It seems like you are shaping sexuality, making marble seem soft.
What is your idea of femininity?
I don't have an immutable idea of femininity. I don't even know if my work is purely feminine, I think it is about physical tension, drawing out tactile feelings and trying to shape them. There are many definitions of femininity and I don't know if I have an important role in describing it. What I can say about my personal experience is that feminine has multiple meanings for me, it is something that is not afraid to change and adapt.
While talking about one of your latest exhibitions, "Panorama, una mostra per occhi felici", you say that it is set up to unleash desire. What made that possible? What's the link between design and desire?
When the curator Annalisa Rosso asked me to do this exhibition, one fundamental element was the location: a for- mer shop with large full height windows.
The displays of shops and perfumeries have always fascinated me, they are places full of possibilities that we pass in front of, stop at, check our reflection. We see objects for self-care, such as make-up or a dress, that might open up who knows what possibilities to us.
Objects that from behind the glass promise us a better version of ourselves, stronger, more beautiful and happier. Not that I am in favour of this on principle, but the role that department stores and boutiques have had in shaping a form of desire is undeniable and fulfilment of oneself especially in the feminine universe, not to mention the charm of fabric stores, strange temples in which we can all get lost in imagining the infinite potential of those multicoloured cuts, almost perfect in their incompleteness. The windows of a perfumery are a place, for me, where I could lose myself for a few minutes every day, imagining which object I wanted to possess if I could choose one and only one.
I think things are very different now both in terms of the changes to how we consume and a change in the urban layout and architecture dedicated to commerce, much less spontaneous and localised, more carefully studied and linked to coded ideas of brand and lifestyle, when not completely virtual.
Regarding the connection between design and desire for a designer, I believe that in the design of objects that are not purely functional (for which I have great respect and esteem because they perhaps have a higher function), but which also have an expressive component, a certain degree of fetishism and desire is present in many of the greatest creators. Whether it is a perfectly smooth and geometric metal surface, or a contrast between an almost brutal functional aesthetic that plays with bad taste, any choice represents a desire: to control, to bend reality to one's ideal, to create a sign or a relationship with the object.